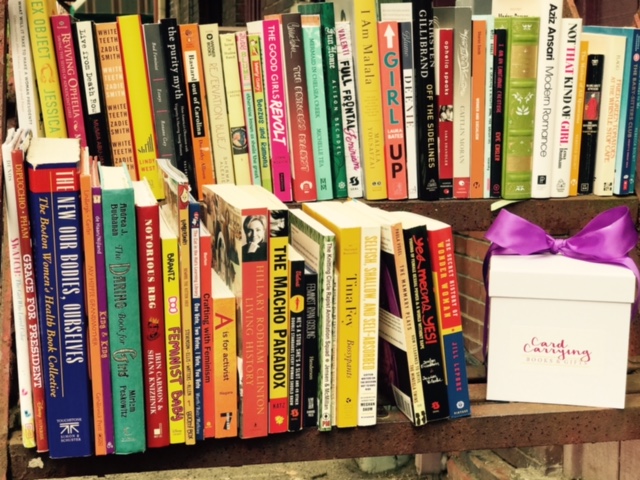 Welcome to the new, online version of the monthly Card Carrying newsletter! 
In the past, your newsletter has been based on which kit you subscribe to, but we're trying to use less paper these days, so we're streamlining the process. 
If you're like us, you've been tuning in to the Democratic debates going on... and you've been super disappointed by the sexism happening. It feels like women work to take some giant steps forward, just to have it all come crashing down with commentary from just one man. 
The upside of any frustrating, angering, grossly misogynistic situation is that we know from experience that some truly astounding writing will come out of it. Already, feminists like Jessica Valenti, Sady Doyle, and Rebecca Traister have written thoughtful work about the 2020 election process. We highly suggest you take a few minutes to google them, or check out sites like Vox or Medium. Sometimes we share these op-eds on our Facebook page so feel free to start there.
In fact, that's the activism this month: some online reading, and sharing. We know, we know; this is kind of a book club, so you're already reading. But we want you to read a few of the amazing pieces being published online by feminist authors, and we want you to share them. Text the link to a friend, post it on your Facebook page, email it to a like-minded work colleague... whatever works for you. This is also meant to be an exercise in self-care, because you're taking a few quiet minutes to read something worthwhile that will hopefully make you feel less alone. 
We hope you enjoy the contents of your kit this month, and we hope this new online newsletter works for you. 
(The image above is from 
themarysue.com/sexism-against-elizabeth-warren)
Card Carrying Books & Gifts
Creating a feminist future by providing socially progressive books, curated gifts, and activism to the Finger Lakes region!
15 E. Market St. Suite 102
Corning, NY 14830
(607) 684-6114
sarah@cardcarryingshop.com